Britain's most senior female judge is calling for 'no blame divorces'. Baroness Hale of Richmond is seeking to reduce the anguish many couples experience during a bitter breakup with an overhaul in the separation process for the 120,000 couples who divorce in England and Wales every year.
Currently the breakdown in relationships and the emotional toll it takes on the children of the parties would appear to be an inevitable result of divorce, however, Baroness Hale believes that these problems are exacerbated by the contentious nature of the legal process.
Under the current system couples seeking a 'quickie divorce' must expose to the court the unreasonable behaviours of their partner and air their dirty laundry in public. This can quickly descend into petty bickering and fights.
Baroness Hale, who is the only woman among the twelve supreme court judges,  suggested in an interview with The Times that 'we should make it take longer to get a divorce and encourage people to sort out what happens to their home, children and money before rather than after they get a divorce.'
She has proposed a 'cooling off period' of a year for couples to make arrangements regarding their finances and children.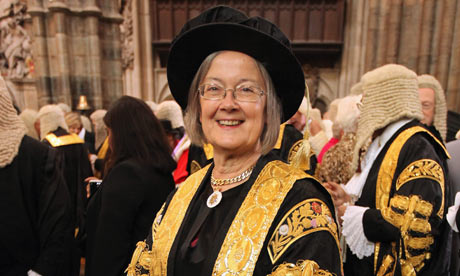 Prominent lawyers have backed the idea, arguing that placing entire responsibility for the breakdown on one party while the other is absolved doesn't reflect the complexities of modern relationships. It usually takes two to tango.
Sir Paul Coleridge, chairman of the Marriage Foundation backed the baroness' proposals saying " Lady Hale, a complete expert with decades of experience across this whole field is entirely right."
She has come under fire, however, from critics who view divorce as a last resort. They argue that removing responsibility from the process further whittles away at the sanctity of marriage and that making unions so easy to exit robs the contract of its meaning.
Others believe that conflict over grounds for divorce will have little impact on the relationship of the couple when weighed against years of difficult marriage along with extended financial and custody battles.
Time will tell if her plans gain traction as when she originally made the same proposals some twenty years ago they were promptly trashed by conservative MPs as being anti-marriage. Britain today is a different country to the one that she appealed to twenty years ago though and couples may in future find a divorce process that is altogether friendlier and more accommodating.
Until then mediation can make things a whole lot easier. Carr & Co have specialists in mediation so for more information give us a ring on 0191 284 0363 or email us at gosforth@carrandcoslicitors.com.